Garter Stitch Jacket II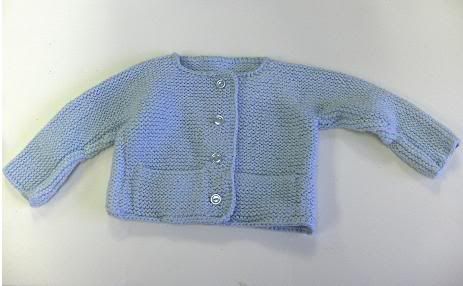 Pattern
: Debbie Bliss,
The Baby Knits Book
Yarn
:
Bernat Cotton Tots
in Little Boy Blue (aptly named, don't you think?)
Notes
: I crocheted a single crochet edging around the sleeves and edges. Here's a closeup of the neck where you can see the right side and the wrong side of the crochet. The neckline was a little inconsistent because of cast-on and increased stitches and this neated it up nicely. (click for a bigger image)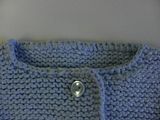 I did the edging in the same color as the rest of the sweater and I chose buttons that matched pretty closely. I thought about doing the edging and buttons in a contrasting color but I nixed that idea in the end. I liked the simple look of the jacket and decided not to fuss with it.
I fussed around a little with the cast on stitches for the pockets. First I tried the backward loop cast on (pic on right). I didn't like the loose, sloppy stitches so I ripped it back and went with the cable cast on (pic on left) which looked much neater.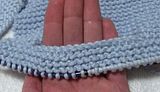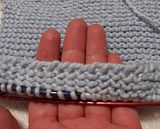 Click for bigger images