Headline News Cap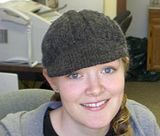 Pattern:
Headline News Cap from
Stitch N Bitch Nation
Yarn:
I didn't have any of the recommended yarn around but
Lamb's Pride Worsted
worked just fine. Color: Charcoal
Notes:
This was a very easy and fast piece. Unfortunately, My head is sort of tall and thin and it just didn't look right on me. So, I gave it to the sis, who's head is more of a round shape. It looks great on her.