Mini Kyoto
This is the first garment of any substance knit with my own handspun. I used the
Kyoto
pattern in Knitty as a model.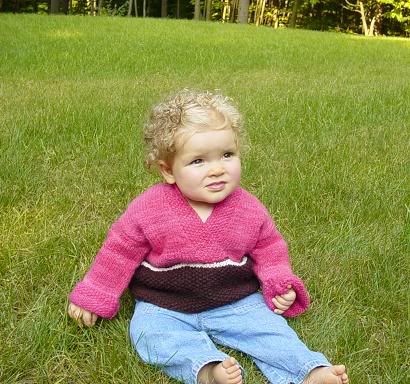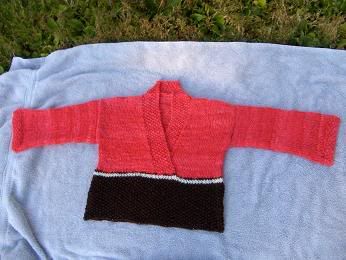 Pattern:
Based on
Kyoto
, heavily modified.
Yarn:
Brown: handspun Romney wool, about 100 yards. Pink: handspun Corriedale wool, about 300 yards.
Notes:
I made some major modifications to the pattern, both to accommodate the smaller size and to cut down on all the seaming at the end. Now, I don't mind seaming. In fact, I rather like it. There's something so satisfying about getting that perfect invisible seam. But knitting a small sweater in a heavy worsted yarn makes for a lot of extra bulk if you have seams all over the place.
I eliminated the shoulder seams by going the short row/three needle bind-off route; I eliminated the body-to-sash seams by not binding off the sash; I eliminated the border-to-body seam by knitting the seed stitch border along with the two fronts. I'll graft the two sides of the border together and seam it for a few inches at the back of the neck.
I see a lot of people knitting this sweater looking for ways to cut down on the seaming. I don't know that I'd recommend my modifications for an adult-size sweater as those seams give the garmet some shape and stability. Baby clothes are a lot more forgiving since babies are basically shaped like little squares.