Gobstopper Cardi
Pattern
: In my head. It's just a basic sweater with a little collar with a picot bind off. And a one-button closure, like the
Jawbreaker Cardi
that inspired it. I'll call it the Gobstopper Cardi, since a
gobstopper
is basically a mini-jawbreaker. Plus I love gobstoppers.
Yarn
: 5.5 oz of Corriedale that I spun and made a two-ply (dyed by
Heather
), knit on size 10.5 needles.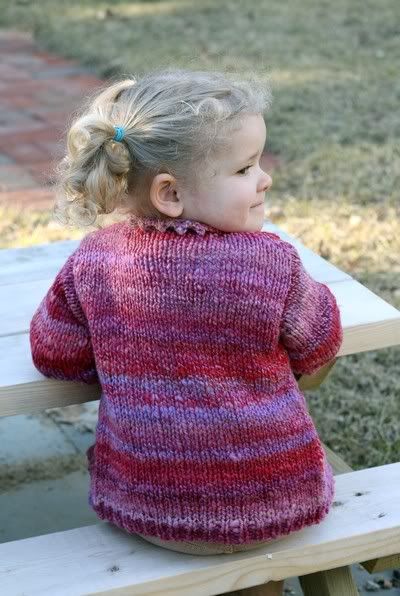 I am so happy with this. I can't believe how well it fits her! I was worried about the sleeves being too short, but really they're just perfect. I reknit the collar three times to get it to lay right, and used up very last bit of yarn. All I had left was the little bits left after weaving in the ends. I've never planned something out like this (from fiber to finished garment) and had it work out so perfectly.
Click any little pic for a big version: